Monique, Cal State Fullerton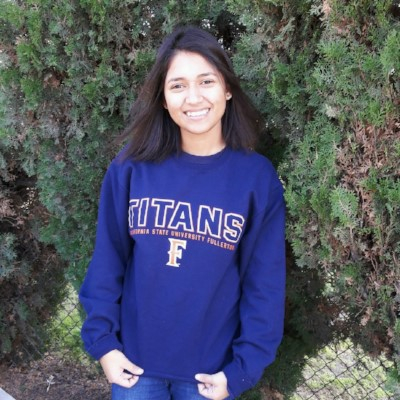 I very much enjoyed my first semester at Cal State Fullerton. It was a bit of an adjustment but after the second week I was becoming more familiar with the resources on campus and meeting new people who are now very good friends. I applied for an internship called Jumpstart. I am placed at a preschool in Santa Ana and I work with 3-4 year olds. A group of five other girls and I are able to go every Tuesday and Thursday to read and work with these children. I am getting work-study through this internship and I am enjoying every minute of it. I also enjoyed al of my classes this semester, especially my Sociology class. I got very close to a few of my professors and they were always willing to help during their office hours. I became Vice-President of the Freshman Student Association on campus and joined two other community service clubs. I do commute to CSUF sometimes by bus and sometimes I carpool with a friend, but I've been adjusting to that. I am in the process of getting my drivers license so the commute will be a lot easier. I was also able to go back to my local high school and give presentations to freshmen and seniors on topics such as college applications, the college life, scholarships, and volunteering. It is always nice to be able to help others in the same way that I was given the help and resources in high school. I was also able to be a part of my cities annual Halloween parade as the "Youth Citizen of the Year". Overall my first semester was a great one! I was able to earn a 4.0 GPA while working and being involved and I am excited to become more involved as the years go by. Also, as I am taking my general courses I am starting become interested in becoming a Child and Adolescent Studies major because I am currently a Sociology major. So I either plan to make one of the two majors a minor or possibly double major. Either way, I know that ultimately I want to attend Graduate School and earn a Master's degree in School Counseling The college environment is amazing! I love how I can schedule my own classes and I find that some of the classes that I am taking are interesting. That is a little bit on how this last semester went and I am excited to share more with you all as the next semester approaches.
Once again I would like to thank the META Foundation, the donors, and the board of directors for all their hard work and for all they do and for allowing me to continue pursuing a higher education.